The Association of Sri Lankan Lawyers in the UK (ASLLUK) is a platform to raise funds for worthy causes. ASLLUK commenced their charity work in  2004 followed by Tsunami victims in Sri Lanka especially with a  motto 'we  are with the children of Sri Lanka.'  It has been possible for them to transform a tangible difference to the lives of poor people in their motherland. The list goes on to illustrate  the feasibility of  assistance continued in Sri Lanka as follows:
The ASLLUK has helped the Orphaned children in Matara: St Mary's Convent who were devastated by the Tsunami.
Children at Senthalir Orphanage, Udayarkuddu, destroyed by the Tsunami.
Supply of Medical equipment for Jaffna and Karapitiya hospitals.
Life-saving kidney dialysis machine for the Anuradhapura hospital.
Law Books related to Law and Law enforcement for public libraries, including Jaffna, Batticaloa and Galle etc.
They have donated a  collection of law books which is displayed on the 2nd floor of the attractive Galle public library. This collection of law books will surpass any other law library in Sri Lanka.
Awarded Scholarships for Law College and Law Faculty students in Sri Lanka.
They have sponsored a vital protection plan for the endangered Sri Lankan Elephant and Environmental law internships to train young lawyers in Sri Lanka in order to engage in public environmental litigation, in partnership with the Centre for Environmental Justice, who are connected to the Friends of the Earth. This is another means whereby young lawyers will understand every aspect of environmental law and will be trained to stand up and fight to defend and protect the environment in the courts. 
It was an absolutely horrifying sight on television news recently, which displayed the amount of damage done by wild elephants to human life. Therefore, the ASLLUK has initiated the necessity to assist environmental groups in Sri Lanka having seen a herd of Sri Lankan Elephants scavenging at a mountain of garbage dumped near a forest. It showed the scale of the problem. That is why ASLLUK decided to support the Centre for Environmental Justice. It is how they fought and won the legal battle for justice for the Wilpattu forest.
The members of the ASLLUK firmly believe in what Lord  Buddha taught that  'Loving-kindness, compassion and joy are the main ingredients for the welfare of others and virtues of human life.' Lord Buddha also preached that such marvellous qualities will always embrace blessings from the Universe. The ASLLUK considers 'charity has no label' irrespective of any religious groups of people. They believe their service is a forum for justice and environmental protection together with peace and reconciliation. Therefore, the ASLLUK considers charity work is a platform to raise funds for worthy causes, where they have served a range of social justice projects in Sri Lanka. It gives them satisfaction and strength to improve the standards of living of poor and deprived people in Sri Lanka.
Child Protection.
The ASLLUK supports homes with poor families by providing child protection, their defence and offering a good quality of life in the best interests of children. At present ASLLUK has identified three possible homes according to their study, which is forecast as 'acceptably run'. They are Methsevana Disabled Home' in Ambilipitiya, 'Vivekananda Girl's home' in Valaichchenai Batticaloa and  'Saliyapura Children's Home' in Anuradhapura.
Sixteenth Tsunami memorial speech
To commemorate the sixteenth Tsunami anniversary and to proclaim to the world at large on account of the children of Sri Lanka, a reception was held in London in the presence of Ms Saroja Sirisena, The High Commissioner for Sri Lanka in the UK. Other distinguished guests attended the reception were the ASLLUK President Harendra de Silva ( Queens Counsel), Members of the Bar, Law Society and Members of the Sri Lankan Lawyers in the UK. 
An impressive speech was delivered by The Chairman of ASLLUK Tsunami Charity Lalith De Kauwe, an eminent Criminal Law Barrister, who is passionate about the rights and welfare of the poor and disadvantaged. He lit the traditional oil lamp to symbolise hope for the future in memory of those who perished in Sri Lanka due to Tsunami in 2004 with a particular ' thank you' to all members of the ASLLUK, and in particular Harendra de Siva President, Fritz Kodagoda Patron, Daminda Gunatilaka General Secretary and Selvanayagam Sathananthan, Treasurer of ASLLUK Upali Jayatillake, the founder of ASLLUK along with the Tsunami Committee for their services over the years. He also thanked Tanoo Mylvaganam, Terence Costa and Sumal Fernando, not to mention many people who generously supported and assisted the ASLLUK over years in many different ways.
Lalith De Kauwe paid tribute to the distinguished speakers in the past, who had spoken at annual events since the 2004 Tsunami where 40,000 victims perished. They included Judge Christopher Weeramantry, former Vice President of the International Court of Justice in 2012, Dr. Kamal Gamanmpila, attached to the Environmental Pollution and Chronic Kidney Failure in the North Central Region, Sri Lanka in 2015; Mr Will Rundle, Head of Legal Friends of the Earth attached to the 'Environmental Justice" in 2018 and Ms Sue Wilman, Campaigning Solicitor; Deighton Pierce Glynn on 'Climate Change Litigation. 
The Tsunami Memorial Reception is a remarkable event, which cannot be ignored as the horrible incident of Tsunami shaped an unimaginable catastrophe. The ASLLUK celebrates it 'as a charity they served with a range of social justice and  projects in Sri Lanka.'  
Brilliant Sri Lankan artist  Kirti de Kauwe, who experienced a severe disability from the age of 6 months, donated a series of inspirational Tsunami paintings towards the charity to raise money. Emalka Hapuarachchi and Joseph Seelan too donated their paintings for auction at an earlier event. The 2004 Tsunami undoubtedly unleashed an unbelievable generosity of spirit and compassion among all human beings. 
In 2020, Covid-19.
In the current situation of the Covid-19 pandemic, poor people become helpless and hapless. Funding offered to severely affect folk such as to-day- to-day wage earners and the poor are drastically affected due to the worsening ill-advised cuts of foreign aid to Sri Lanka. In this context, the ASLLUK is embarking on a project for Sri Lanka to raise awareness of children in Institutional care in Sri Lanka and to support children with disabilities in such care.
According to the Department of Probation and Child Care Services, the number of children in institutionalised care in 341 registered voluntary children's homes in Sri Lanka ( in 2010) were 13,214.  In 2012, the child population was approximately 6.4 million – which is equivalent to  25.2% of the total population. 14,149 were looked after by Institutional care. UNICEF/National Institute of Social Development reports include 414 Child Care Institutions in all nine provinces in Sri Lanka in  2014.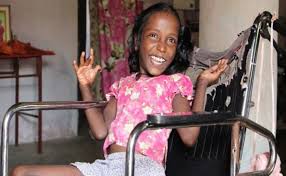 The plight of Institutionalised children with disabilities and special needs in Sri Lanka is a matter of real public concern. In his speech,  Lalith De Kauwe emphasised that no one is able to be complacent about the situation. Children with disabilities do not enjoy equal access to education in comparison to the rest of the child population due to lack of schools providing special education. As they become adults they continue to suffer discrimination. How many hotels in Sri Lanka, even have wheelchair access, let alone disable toilets and bathrooms? He questioned. In stating so, he affirmed the fact that ' it simply has not registered in the minds of officials, consequently children with disabilities need to be accorded with dignity and legal rights.
He further emphasised how the  ASLLUK aim and support homes that are run properly to provide child protection with good quality life and act in the best interests of children. 'We can help all institutionalised children achieve their potential so that they too can fulfil their talents and dreams', he continued. We are mindful as not get carried away with colourful websites and ignore the deserving kids in isolation like the ones we are seeking to support.
The ASLLUK rely on their own knowledge, research and recommendations from people they trust in Sri Lanka and recommend the  Government of Sri Lanka to do the following :Implement Deinstitutionalisation and Child Protection policies;
1.Provide resources for foster care;
 2. Accelerate mechanisms for the care, rehabilitation, reintegration and return of children to their families in the community. Implement policies and legislation to end discrimination and abuse and to protect children with disabilities. 
3. Provide resources to translate the policy into effective practice.
Conclusion
'Institutionalised Children and children with disabilities are entitled to equal rights that are given to all the other children in Sri Lanka'. Given a chance, they all will be creative, good, model citizens of Sri Lanka. 
 Democracy is the practice of justice and equality for all. So, let us do what we can, and support children in the community .and to support the lives of children living in Institutional care, at this difficult time of Covid-19 in Sri Lanka.
'Let us emulate what Mathew said in the  Bible in 25:35-40:  "Once I was hungry and you gave me something to eat; I was thirsty and you gave me something to drink, I was a stranger and you invited me in, I needed clothes and you clothed me, I was sick and you looked after me, I was in prison and you came to visit me.
picture credit: CNN, www.flick.lk, daily FT. ,Child fund alliance and almy.com