Road Traffic accidents and associated deaths are on the increase in Sri Lanka  and the  government expects to eradicate road traffic accidents, violations and road deaths completely with increased traffic fines, but could fines alone help to eradicate this problem? It may to some extent help to minimize road tragedies temporarily until the tension amidst motorists is diminished gradually.
Pic.Credit: Unknown source out of an email " archives?"
Sri Lankans generally have short memory and tend to forget everything at the drop of a hat, when it comes to road traffic accidents and associated deaths on the road,  akin to the way they behave when fuel price increases come into effect, or politicians come out with pseudo promises and become egocentric once coming to power! Corrupt traffic Police Officers are always willing to accept a bribe and let loose the offender, which apparently works out towards a mutual advantage for the offender as well as the dishonest Police Officer!
The latest revised traffic fines, no doubt, will make it difficult for those who do not possess a valid driving licence, those who drive under the influence of liquor or drugs, permitting anyone to drive a vehicle without a valid driving licence, driving into an unprotected rail crossing, and failure to possess a motor car insurance certificate.
In the new concept, speeding above the limit has been increased to Rs. 3,000, with a grace period of 14 days to pay the fine – if ignored it will become double, and end up in Court with the possibility of the offender's driving licence getting suspended for a period decided by the judge, along with a heavy penalty.
In addition to the exorbitant new fine structure on selected offences, supplementary 'spotfines' have been introduced for overtaking from the left, reckless driving, underage person found guilty while driving, filling up fuel at a petrol station with the engine running, and reversing a vehicle for a 'longer distance', overloading busses, trucks and three wheelers etc. Using mobile phones while driving, or a driver being detected on the phone whilst seated on the driving seat and engine running, will also lose the driving licence for three months on the spot.
Switzerland
Switzerland is a country where Road  traffic violations  are considered extremely stringent. Here, the maximum speed limit on autobahns is 120kmh. Those motorists who exceed speed limits, as well as those who crawl on autobahns at lower speeds, are detected by Police and speed cameras, and are fined. The Swiss Traffic Police watch drivers like hawks, and if a motorist is caught for speeding repeatedly, the driver will be disqualified for a certain period or loses his licence indefinitely, after being referred to a psychologist to assess whether the person is mentally fit to drive!
Exceeding speed limits in a Switzerland autobahn holds the world's largest speeding fine, which is expected to cost £650,000! Last week it was on news how a motorist driving at two and a half times the speed limit in his car, getting pulled over by Swiss Police and cost the driver £140,000.
Another driver was reportedly caught travelling at around 300 kmph (186mph), during at least one stage of his journey, and managed to evade being zapped by a number of radars simply because he was driving too fast and Police were incapable of clocking speeds beyond 200 kmph (125mph). Another driver caught last week, between Bern and Lausanne is apparently facing a possible penalty of 300 days of fines at £2,166 a day – totalling a sum of £650,000. A new generation of radar machines clock whenever a motorist is detected exceeding legal speed limits.
Swiss voters have approved to replace prison terms for some offenses, including speeding, in 2002, which are based on one's income. Therefore, those who have any intention of driving in Switzerland down a windy village road at the foothills of the Alps, one needs to ensure that one is either very mindful of the traffic Police, as speeding fines in Switzerland are calculated using a formula that takes into consideration on the income of the motorist and the severity of the offence.
If a motorist exceeds the legal speed limit by 25 kmph up to 35 kmph in a built-up area, the offence will be entered into the Register of Criminal Convictions, and the offender's name will appear for a specified period on the register. In such cases, the offender has all the chances of losing the driving licence permanently.
Writer's experience
The writer experienced to what extent the Swiss Traffic Police are vigilant on 24 July, 2018 when he was being driven on a long journey, by a young British driver, who became impatient having had to crawl behind an old lady driver on a hilly elevation, prior to merging in to an autobahn.
In his frustration, he overtook her at the very edge of a continuous white double line only a few feet before the merging point. A few minutes later, while happily driving in the autobahn, an unmarked BMW overtook our vehicle. An electronic sign from the rear screen of the BMW indicated it was Police.
Intrigued by such Police action, the writer observed until the young driver followed the Police car till the Police officer found a safe place to stop. Once stopped, one of the officers greeted the driver, checked the driver's licence and relevant documents related to the registration of the vehicle etc., which was stored in the data base in the Police patrol car and finally issued a note stating that he had 'crossed the double white line'.
Pic. credit: Globalcarsbrans.com
He was informed to expect a penalty charge from the area Swiss Police. When the driver inquired as to how much the fine might amount to, the officer quite calmly said "it would be around 300 Swiss francs" (Rs. 49,000 approx).The writer was highly impressed with the way the Police officer handled the situation in a most decent and gentlemanly manner. Police did not retain the driver's licence, but handed over a written charge sheet, and advised the driver that he would get a communication from the Swiss Police.
The young man was expecting the penalty notice to arrive at his letter box on a daily basis, but up to the time of writing this article (13 August) nothing had arrived! May be the officer would have had second thoughts about the offence being negligent!
This goes to show to what extent the Police in Switzerland control traffic. There is no political interference whatsoever for the Police to execute their duty according to the laid down procedures, and strictly according to the letter of the motor law.
However, much regulations are introduced in Sri Lanka, and fines are increased in a variety of ways, nothing constructive will happen if the law is not implemented properly, and until the Police are allowed to execute their duty without any interference.
Differences
In Switzerland, container traffic is restricted to the inner slower lane only. Buses and taxis use a separate lane, while the middle of the road and bicycle lanes are marked in red bitumen.
Bus Lanes in Luzern
In the country side, the roads carry yellow markings – separating cycle lanes from pedestrians. It is mandatory to have the dipped head lights on, even during day time, and parking charges are extremely reasonable. By law, when pedestrians are about to cross the road, all vehicles must stop and let pedestrians cross safely.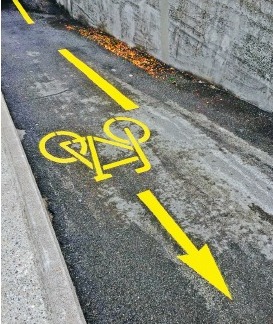 Sri Lanka has been dithering with indecisiveness as motorists are intolerably inconvenienced after a traffic crime, as the offender has to part with the driver's licence to the Police Officer and having to travel all the way to the appropriate area of Police Station where the offence was done, to get his licence back with the payment receipt from a post office, for which an extra charge of 10 per cent is levied by the post office.
Police spokesmen have been muttering for years on end of a system likely to be introduced, whereby, traffic offenders could use mobile phones to pay traffic fines, but even in this electronic age such advancement remains much to be desired in Sri Lanka.
Although, many Sri Lankan Parliamentarians and Ministers often visit Western and other developed countries regularly, yet it is amazing as to why they are unable to absorb such advanced systems and implement them in Sri Lanka! Is it because of their lack of interest, not having allocated funds from the budget or simply they haven't got any thinking and absorbing power?
Swiss Pics: by TSF